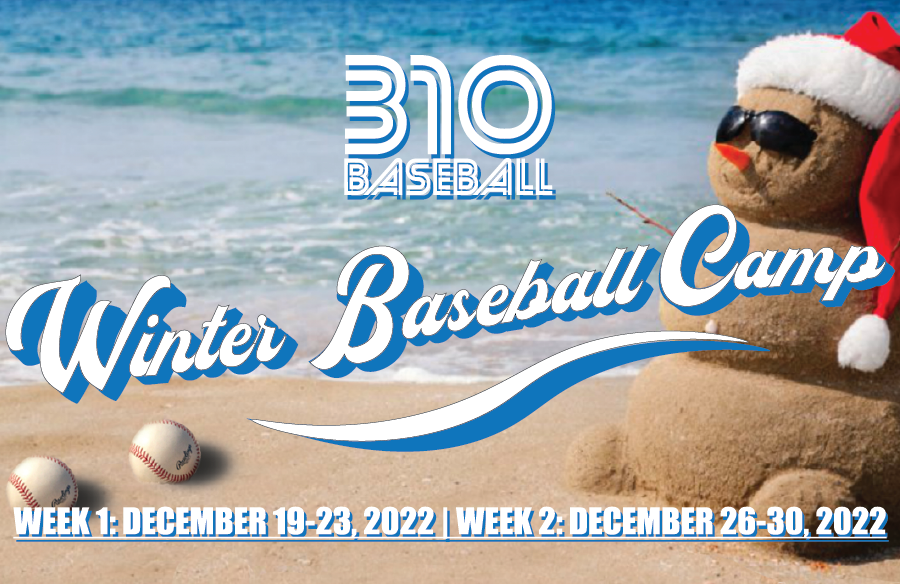 WINTER CAMPS 2022 NOW OPEN FOR REGISTRATION
310 BASEBALL is partnering up with Own Your Move Baseball to further develop players' skills for high school and beyond with coaches Jason Dicochea, Christian Dicochea and Sean Reynolds.
WINTER DAY CAMP
12U & Under
310 BASEBALL's Winter Day Camp from 9AM - 3PM will focus on baseball training as well as different activities and games for 12U and under.
The camps will be held at both Game 7 & El Nido Park. Drop off and pick up at Game 7 facility.
Activities include :
Baseball Fundamentals - Hitting/Pitching/Catching/Defense
Conditioning - Strength/Agility
More fun games & activities!
Cost:
GENERAL ADMISSION : 3-Day Program: $240 / 5-Day Program: $400
310 BASEBALL MEMBERS: 3-Day Program: $2̶4̶0̶ $199 / 5-Day Program: $4̶0̶0̶ $300
LITTLE LEAGUE/PONY MEMBERS: 3-Day Program: $2̶4̶0̶ $215 / 5-Day Program: $4̶0̶0̶ $340 (Must show proof of league registration)
WINTER SKILLS CLINIC
7th Grade / 8th Grade / High School
IMPROVE YOUR GAME!
310 BASEBALL and Game 7 present Christmas Baseball Clinics, training players for higher level baseball from 310 BASEBALL coaches Jason Dicochea, Sean Reynolds and more.
December 20/21/22, 2022
13U/14U: 9:00 AM - 11:00 AM
High School: 11:30 AM - 1:30 PM
Sessions are $60 per day per player, $150 for 3-DAY program.